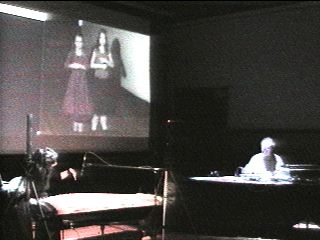 Webcam | mp3 Audio Stream at http://lists.front.bc.ca/stream.php | from Vancouver
from Vienna | mp3 Audio Stream at http://stream.sil.at:7562/listen.pls | Webcam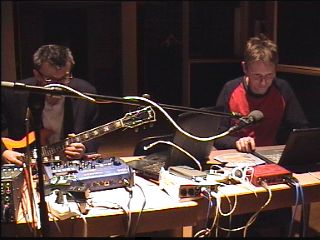 Audio excerpt of the mix between Vancouver and Vienna (56 kbps mp3, 5.3 MB, 13:19)
Western Front (Vancouver) and Kunstradio ORF (Vienna)
present
Chironomy
A Wiencouver Internet Performance - a prelude to Art's Birthday.
Conceived by Miya Masaoka
Concert in the Grande Luxe
Western Front, 303 East, 8th Ave, Vancouver - 604-876-9343
Sunday, January 15 - Doors open 1:30 pm - Live stream 2 pm PST (11 pm CET in Vienna)
Tickets $10/$5 at the door. FREE for Western Front members.
In Vancouver: Miya Masaoka (koto, laser koto, laptop), François Houle, (clarinet, laptop, electronics), and Giorgio Magnanensi (electronics)
In Vienna: Klaus Filip (laptop) and Burkhard Stangl (guitars, electronics)
Chironomy is a project conceived by Miya Masaoka, (koto, laptop, LaserKoto, video) with François Houle (Clarinet, laptop, electronics) and Giorgio Magnanensi (electronics) In Vancouver and Klaus Filip (tube, lloopp software) and Burkhard Stangl (guitars and electronic devices) in Vienna.
This audio and video streaming project uses musicians performing remotely on different continents. Interactivity, improvisation, gestural communication and text are explored within the context of network culture, desire, expectation and alienation. Disembodied sound sources, unpredictable visual and rhythmic time delays, unintended synchronicity and other artifacts of streaming will be exploited.
Miya Masaoka - musician, composer, sound-artist - has created works for Koto, laser interfaces, field recordings, laptop and video and written scores for ensembles, chamber orchestras and mixed choirs. In her pieces she has investigated the sound and movement of insects, as well as the physiological response of plants, the human brain and her own body. Within these varied contexts her performance work investigates the interactive, collaborative aspects of sound, improvisation, nature and society.
Masaoka's work has been presented in Japan, Canada, Europe, Eastern Europe and she has toured to India six times. Venues include V2 in Rotterdam, Cybertheater in Brussels, Elektronisch Festival in Groningen, the Cleveland Performance Art Festival, The Electronik Body Festival in Bratislava, Slovakia, Radio Bremen, Germany, Festival of Lights, Hyberadad, India, and the London Musicians Collective.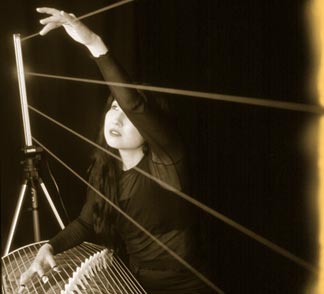 (Photo Credit: Miya Masaoka and Laser Koto. Photo by Lori Eanes)